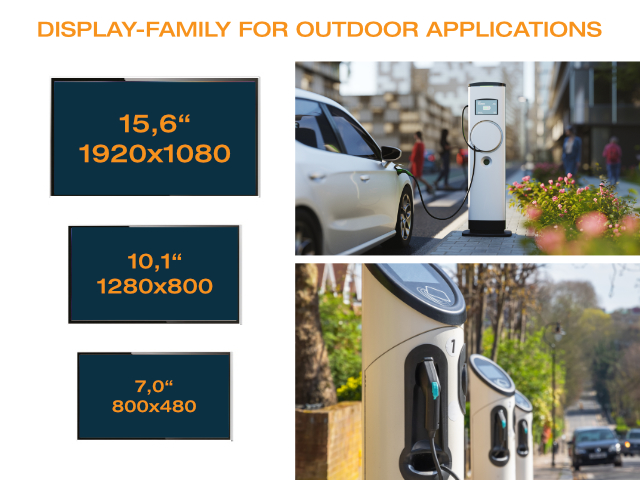 The displays are specially designed for extreme outdoor environments. The display design with high brightness up to 1100cd/m² and high contrast of 900:1 ensures excellent readability in direct sunlight.
Common to all is the extended temperature range of at least -30 to +80 °C and an excellent viewing angle of at least 80/80/80/80.
The optional PCAP touchscreen uses the latest controller, which is immune to water and salt water, can also be operated with gloves or a stylus, and has very good EMC properties. Multitouch and gesture operation are also possible.
In addition, SemsoTec offers optically bonded glass to protect against misuse (IP65) and glare-free surface of the cover glass to reduce reflections.
In addition, SemsoTec designs and manufactures a housing tailored to the customer's application, assists with mechanical integration, and develops custom control and HMI software.
The display family is ideal for all outdoor applications such as charging stations for eMobility, outdoor parking and ticket vending machines.
For more information, please visit:
https://semsotec.de/en/products/outdoor-displays.html