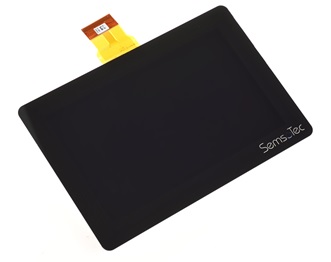 The starter kit includes a 10.1" display module with touch sensor, design glass, touch controller, with USB mouse mode adapter and connection cable as standard and features optical bonding. A display controller is optionally available. Among the impressive features of the display are its high brightness of 1000cd/m² and a contrast of 800:1. It has a resolution of 1280x800 and an extended temperature range of -20°C to +70°C.
The optical bonding ensures high readability, even in direct sunlight. The design glass has a 5 mm edge and is shatter and scratch resistant.
The Touch Display Starter Kit is also available with a 4.3", 7", 10.4", 12.1",15.4", 15.6" or 17" display.